Tungsten Copper Heat Base Properties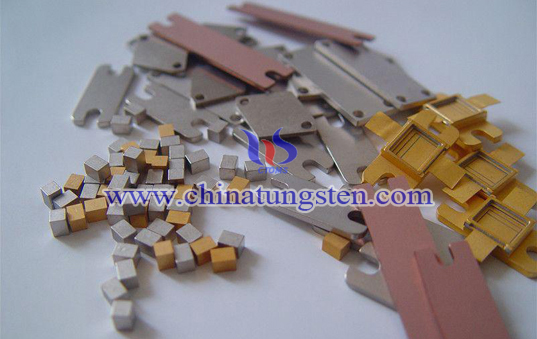 Introduction
Tungsten copper heat base is fabricated from carefully controlled porous tungsten that is vacuum infiltrated with molten copper. This results in a WCu composite that has high conductivity and a matched low thermal expansion for heat bases.
It is a composite of tungsten and copper. By controlling the content of tungsten, we can design its coefficient of thermal expansion (CTE), matching that of the materials, such as ceramics (Al2O3, BeO), Semiconductors (Si), kovar, etc.
Advantages
High thermal conductivity,
Excellent electrical conductivity,
Excellent size control, surface finish and flatness,
Semi-finished or finished (Ni/Au plated) products available of properties of WCu and MoCu heat materials.
| | | | | | |
| --- | --- | --- | --- | --- | --- |
| Material | W90Cu10 | W88Cu12 | W85Cu15 | W80Cu20 | W75Cu25 |
| Tungsten Content (wt%) | 90 ± 1 | 88 ± 1 | 85 ± 1 | 80 ± 1 | 75 ± 1 |
| Density at 20°C (g/cm3) | 17.0 | 16.8 | 16.3 | 15.6 | 14.9 |
| Coefficient of thermal expansion at 20°C (10-6/K) | 6.5 | 6.7 | 7.0 | 8.3 | 9.0 |
| Thermal conductivity at 25°C/100°C (W/mK) | 180 - 190 | 185 - 195 | 190 - 200 | 200 - 210 | 220 - 230 |
| Specific heat at 100°C(J/kgK) | 160 | 168 | 174 | 195 | 211 |
| Specific electrical resistance at 20°C (μΩm) | 0.045 | 0.043 | 0.04 | 0.034 | 0.029 |
| Vickers hardness (HV 10) | 300 | 290 | 280 | 260 | 240 |